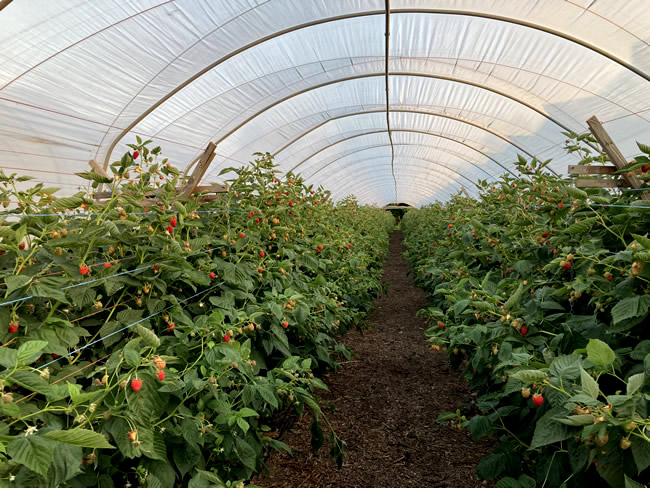 New Farm Raspberries
Category: Soft Fruits
Harvest Time: Late May - October
Growing method: Substrate pots
We grow almost 10ha of raspberries using long-cane plant material. Our main variety is Driscoll's Maravilla. This variety is firm, consistent, quite large and has a good shelf-life. The flavour is attractive and there is a good sugar and acid balance. The quality of Driscoll Maravilla makes it an outstanding raspberry that gives retailers flexibility to sell raspberries without waste. It is also one of the easiest raspberry varieties to pick.
Floricanes
Floricane raspberries are summer fruiting. They produce flower and fruit on year-old canes (the previous season's growth). Fruited canes are cut back to ground level after harvesting in summer, without leaving a stub. Floricanes are vegetative the first year, become fruiting canes that set fruit the following summer, and then they die back after harvest. These canes must remain intact throughout the winter for the following growing season.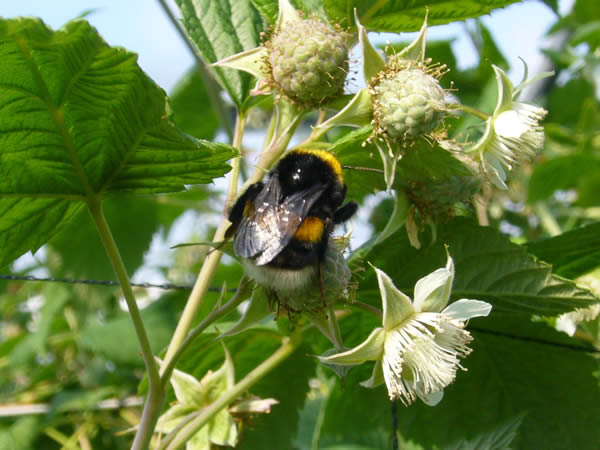 Primocanes
Raspberries can also fruit on their primocanes. These are the new shoots they have been growing since the spring. Primocanes start flowering and fruiting in August/September to produce a lovely late summer crop. Primocane varieties produce flowers and fruit on stems grown in the same year. Most autumn fruiting varieties are primocanes, producing fruit in their first year of growth.